The economic downturn is weighing heavily on the global smartphone market, which continues to fall – it was down nearly 20% in Q1 this year, then fell 6.6% in Q2, based on numbers from TrendForce.
2023 is off to a bad start – the 272 million smartphones produced in Q2, added to the Q1 production amounts to a total of 522 million units for the first half of this year. This is a 13.3% decline compared to the first six months of 2022.
Different companies were affected differently. Samsung is still in the lead with 53.9 million units produced (12.4% less than Q1) and a market share just under 20%. Of course, the new Galaxy Z foldables only arrived in Q3 so we're yet to see their impact, but with sluggish sales for the Galaxy S23 series, it may not be enough.
Q2 is traditionally Apple's weakest quarter – it's just before the major iPhone launch, so most people are holding off to get the new model or the old model at a discount. Apple is facing some production issues for the new generation, so a success in Q3 is not certain. TrendForce predicts that it's possible for Apple to jump ahead of Samsung and claim first place if the iPhone 15 series outperforms expectations.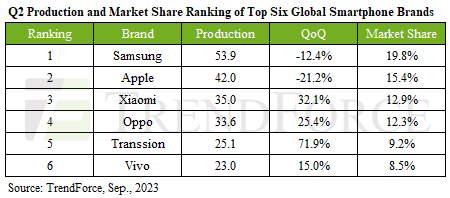 Xiaomi increased production by 32.1% compared to Q1 for a total of 35 million units (this includes Xiaomi, Redmi and Poco phones). This allowed it beat rival Oppo for third place.
Oppo (including Oppo, Realme and OnePlus phones) drops to fourth despite a 25.4% increase QoQ with a total of 33.6 million smartphones produced. The company saw a strong performance in Southeast Asia and other markets, which will remain strong in Q3, so it will be a tight race with Xiaomi.
A bigger upset was Transsion (Tecno, Infinix, itel) getting into the Top 5 for the first time ever and unseating vivo. The company's entry into the mid-to-high-end market is partially credited with this success. The Q1 to Q2 comparison shows a massive 71.9% increase in production.
As for vivo (vivo, iQOO), which is now in sixth, after a relatively small (but still positive) increase of 15% to 23 million units (compared on Transsions's 25.1 million).
The first half of 2023 is the lowest point in global smartphone production for the last 10 years. And things aren't looking rosy for next year either with TrendForce forecasting a minor 2-3% annual increase.