Introduction
One of the key pillars of a good pair of wireless earphones is how they fit your ears. With varying ear shapes and sizes, getting the right fit for your specific ear shape can be a challenge and that's where open-ear earphones come in place. These types of earphones don't just go into your ears but rather rest right around them in an effort to overcome the fit issue. We'll be taking a look at the Tozo Open Buds – one of the newest releases from the audio-focused brand which currently retail for $56 on Amazon.
Tozo Open Buds offer built-in biaxial rotating ear hooks, 14.2mm dynamic drivers, Bluetooth 5.3 connectivity and a claimed 42-hour total battery life with their charging case. We don't get that many open-fit earphones for review so we were excited to test the Open Buds and these are our findings.
Design
Tozo Open Buds come with a large pebble-shaped charging case that houses and charges the buds inside. The case and buds are available in a single black color with a matte finish though the color on the earphones is more of a graphite grey than black. The charging case is larger than most earbuds we've reviewed and measures 92mm in length and 56mm in width. It's not exactly pocket-friendly but that's due to the buds' ear hooks which take up a bulk of the space inside the case. The case and buds tip the scales at a combined 72 grams with each earbud weighing just over 5 grams.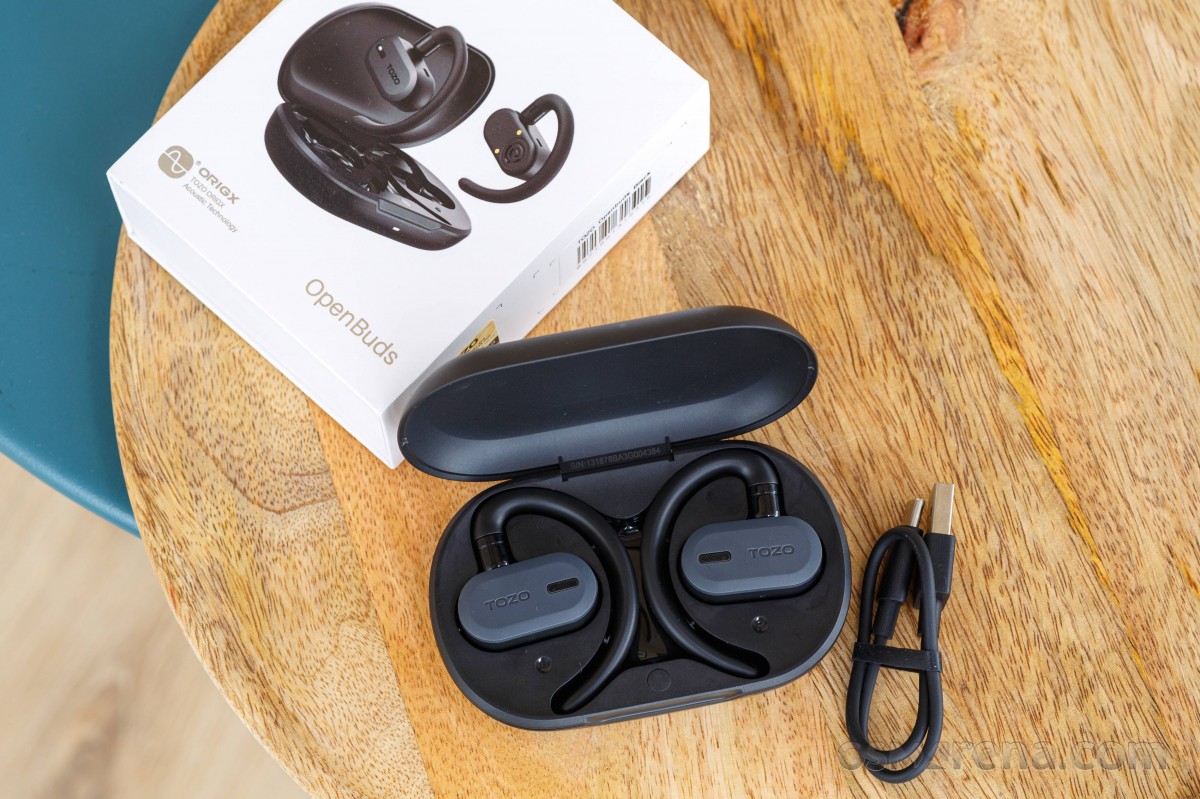 The distinctive feature of the Tozo Open Buds is their air-conduction design which positions the speaker drivers on top of your ear canal. This is especially useful for runners as it allows them to hear ambient sounds in their surroundings but it's also neat for people whose ear shapes don't cope well with in-ear buds. The other key feature of the Open Buds are their ear hooks.
The ear hooks are attached to the buds via a metal hinge mechanism with a seven-stage adjustment and nice tactile feedback. The hooks also swivel 90 degrees which helps them adapt to your ears. Despite their larger form factor, Tozo Open Buds are some of the most comfortable earphones we've tested and this is coming from someone who has a hard time using in-ear buds due to my specific ear canal shape.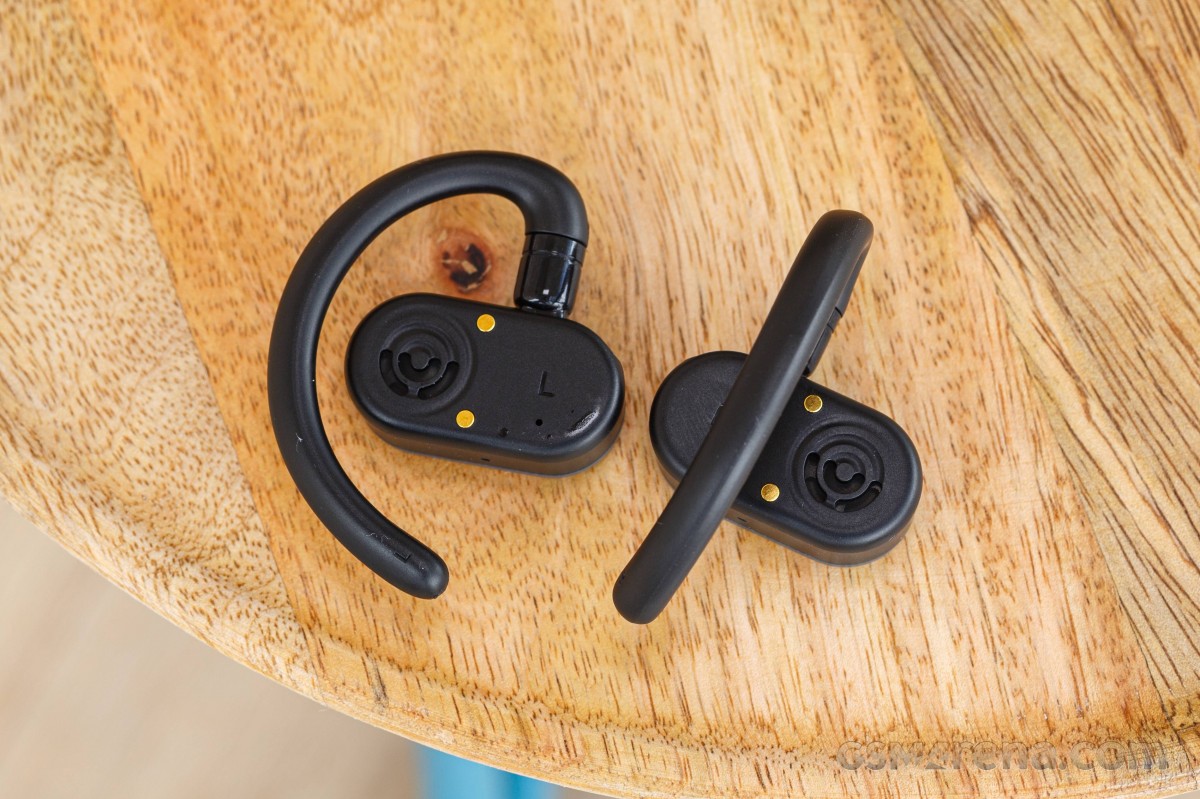 The buds also fit several colleagues around the office with no complaints thanks to their adaptable design. Open Buds are also much easier to share as you don't have in-ear tips that tend to get filled with ear wax and other gunk.
The hooks attach around your ears and ensure the earphones stay locked in no matter what. If you need a pair of earphones for working out, running, or anything that involves constant movement then this form factor will surely suit your needs best. The only downside in terms of fit is that the buds can irritate your ear tragus – the little bit of cartilage that sits next to your ear canal. This would happen over longer listening sessions as the buds keep pressing on the area.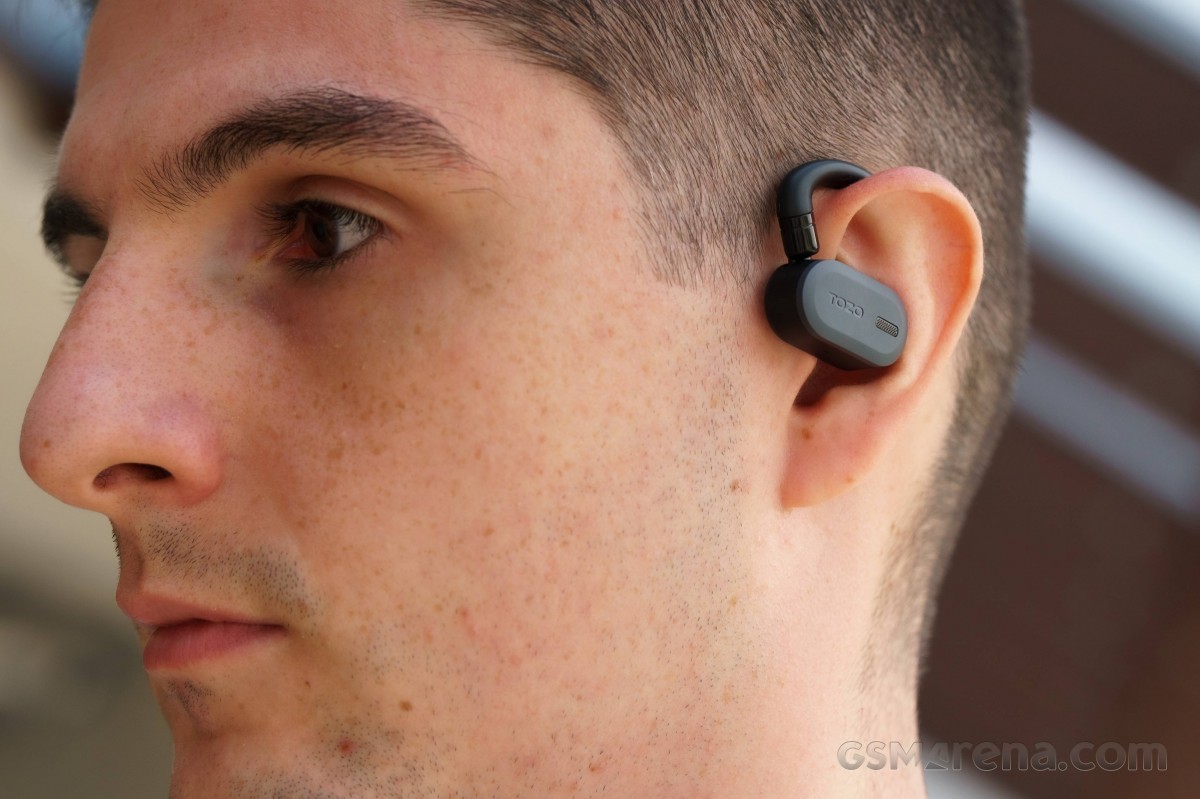 The earphones are made from plastic with the exception of the metal hinge attached to the ear hooks. The build is solid without any creeks on the buds or their case. The only downside is that the matte finish shows off smudges quite easily so you'll have to do the occasional wipe. The buds are IPX6 water-resistant which is always good, specifically if you're caught out in the rain. The retail packaging brings a single USB-C cable for charging as well as the quick start guide and warranty card.
Features
Tozo Open Buds bring Bluetooth 5.3 connectivity with support for dual-device connection. You get support for the AAC and SBC audio codecs and each earbud features a 14.2mm Dynamic driver with Tozo's OrigX acoustic tuning. You'll also find a wear detection sensor for automatically pausing and resuming media playback as well as capacitive touch controls with programmable single, double, triple and long press gestures.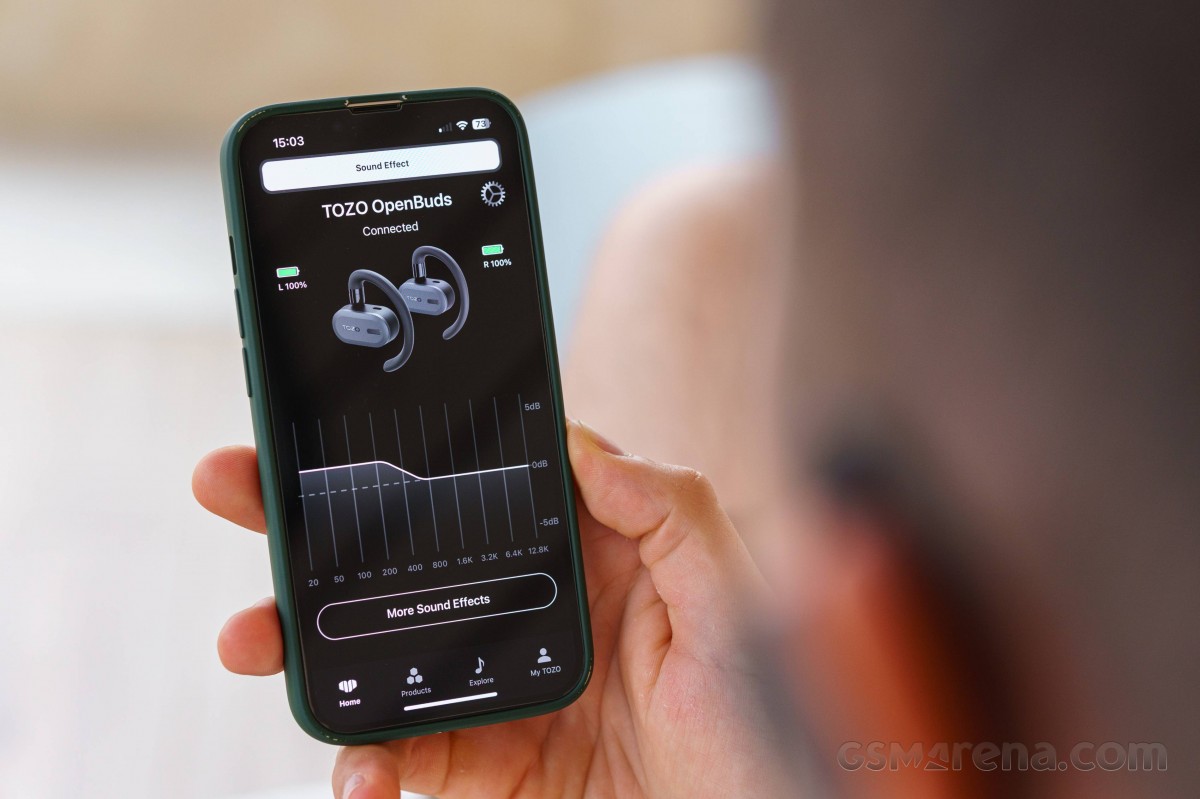 The audio equalizer can be tweaked inside the Tozo companion app available on Android and iOS devices. Due to their open-fit nature, Tozo Open Buds do not offer active noise cancelation though there is DSP call noise cancelation which leverages the dual microphones placed on each earbud to cover up wind and other noises during voice calls.
The Tozo companion app for Android and iOS devices is one of the better implementations and we enjoyed its clean layout and useful customization features just like we did in our Tozo Golden X1 review. The app offers four additional sound profiles that enhance the bass, treble or vocals based on your preference. Sadly you cannot tweak the EQ profiles any further like you can on the flagship Tozo Golden X1.
Performance and Sound quality
Getting used to the Tozo Open Buds' open-fit style takes a few minutes once you put them around your ears. You'd normally expect the earbuds to make contact with your ear canal but that's obviously not the case here and it feels weird initially. The buds rest firmly around your ear and the speakers blast sounds directly on top of your ear canal. As we already mentioned, the one downside to this design is that the earphones press your ear tragus which can cause some discomfort during longer listening sessions.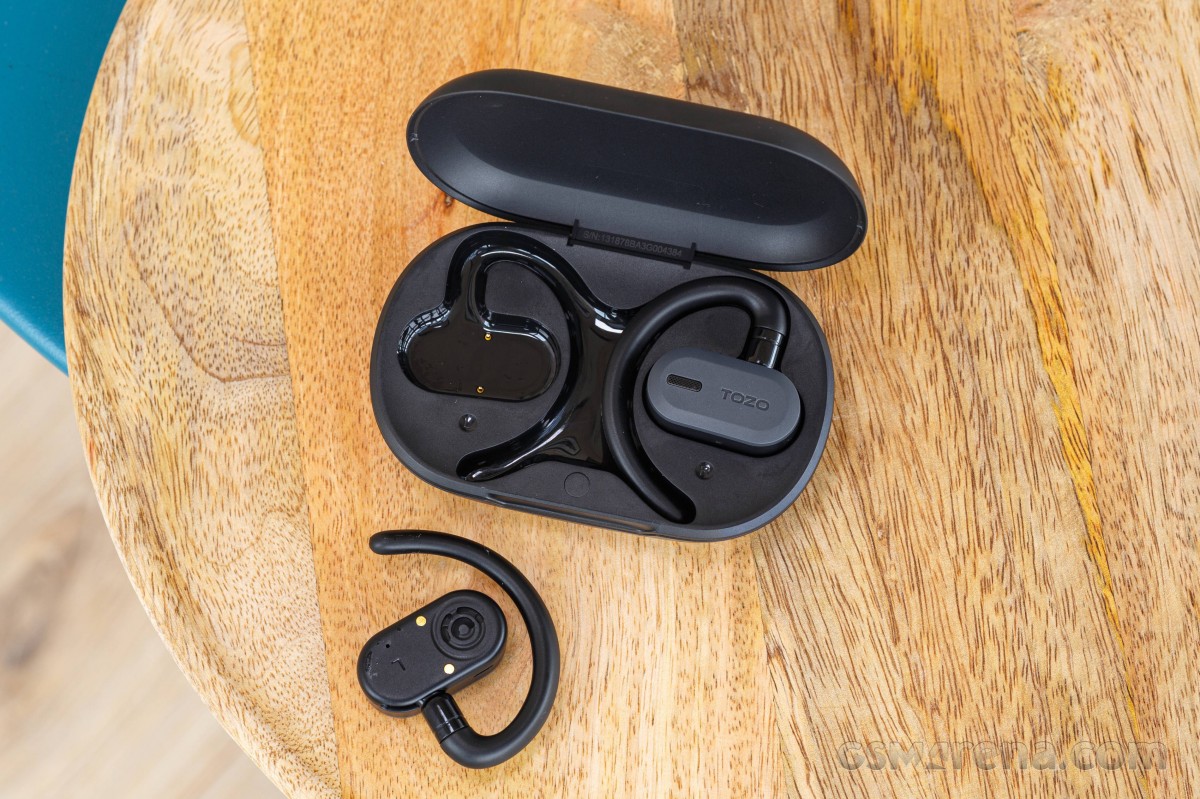 Audio from the 14.2mm dynamic drivers comes in clear though you do need to crank the volume up. As you'd expect, there's some noticeable sound leakage meaning people around you will hear your audio, especially in quieter environments. The listening experience on the Open Buds is different from regular in-ear buds which have a seal in your ear and deliver more immersive sound.


You don't feel immersed in the music and the bass is definitely lacking due to the open-ear nature. This can be a plus if you're a runner or biking around in the city which is one of the key selling points here.
The Bass+ EQ preset does offer more pronounced levels but it's still nowhere near the experience you'd get from an in-ear earbuds. The midrange is well pronounced with vocals and musical instruments being faithfully reproduced while the upper range is recessed. That being said, Tozo Open Buds sound pleasant as long as you lower your expectations compared to premium in-ear buds.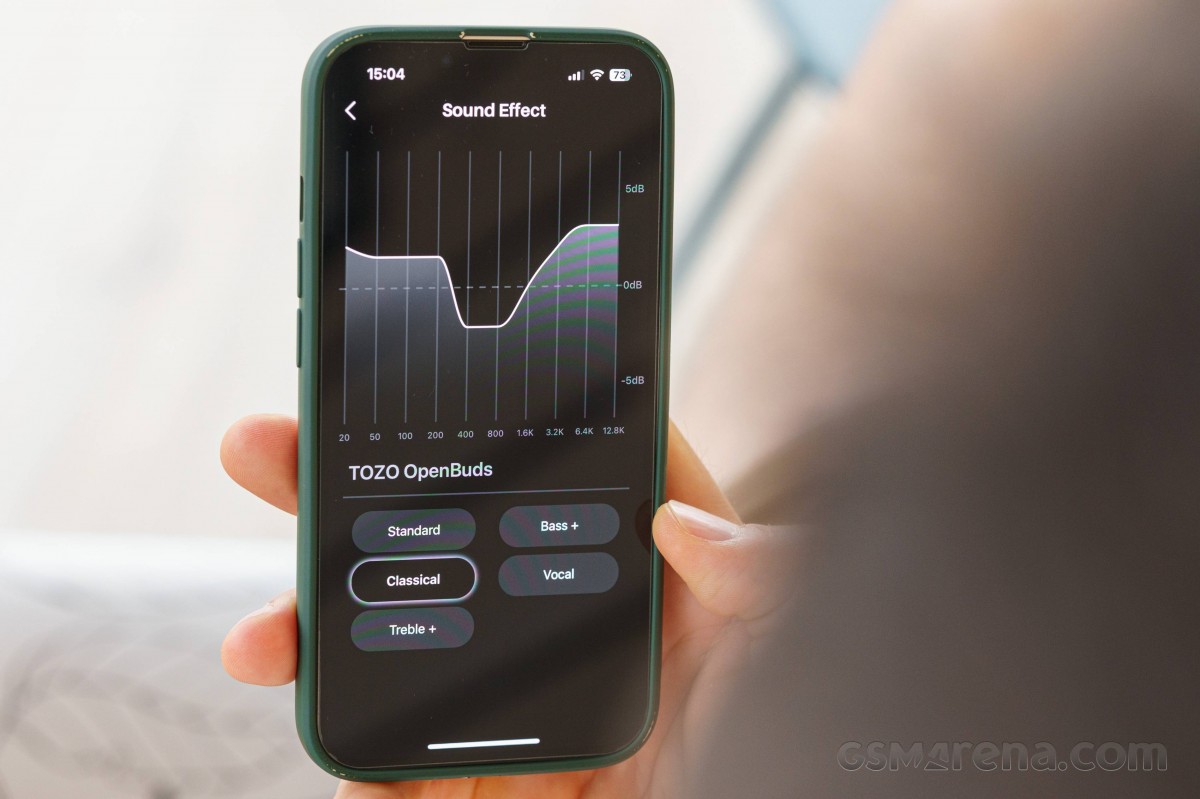 Touch controls worked flawlessly on my connected phone and laptop and I did not experience any problems controlling my media. The ability to remap the touch controls in the Tozo app is another neat addition and you can even assign volume controls to the long press gesture which is always a welcome option.
Open Buds handled Bluetooth connectivity just fine though like the Golden X1, these earphones offer an effective range of only 10 meters which is well below what we've seen from most of the recently reviewed earbuds from other brands. Multi-point pairing worked well in my testing quickly switching between my connected phone and laptop. The call quality on the Open Buds is about average for earbuds in this price range.
The microphone managed to pick up my voice during calls in most cases though incoming car traffic and winds muffle my voice according to people on the other end of the phone.
Battery life
Tozo Open Buds pack 70mAh batteries inside each earphone while the charging case adds a 650 mAh pack. Tozo claims the buds should last 12 hours on a single charge with 50% volume on the AAC codec while the case should extend the total playtime to 42 hours.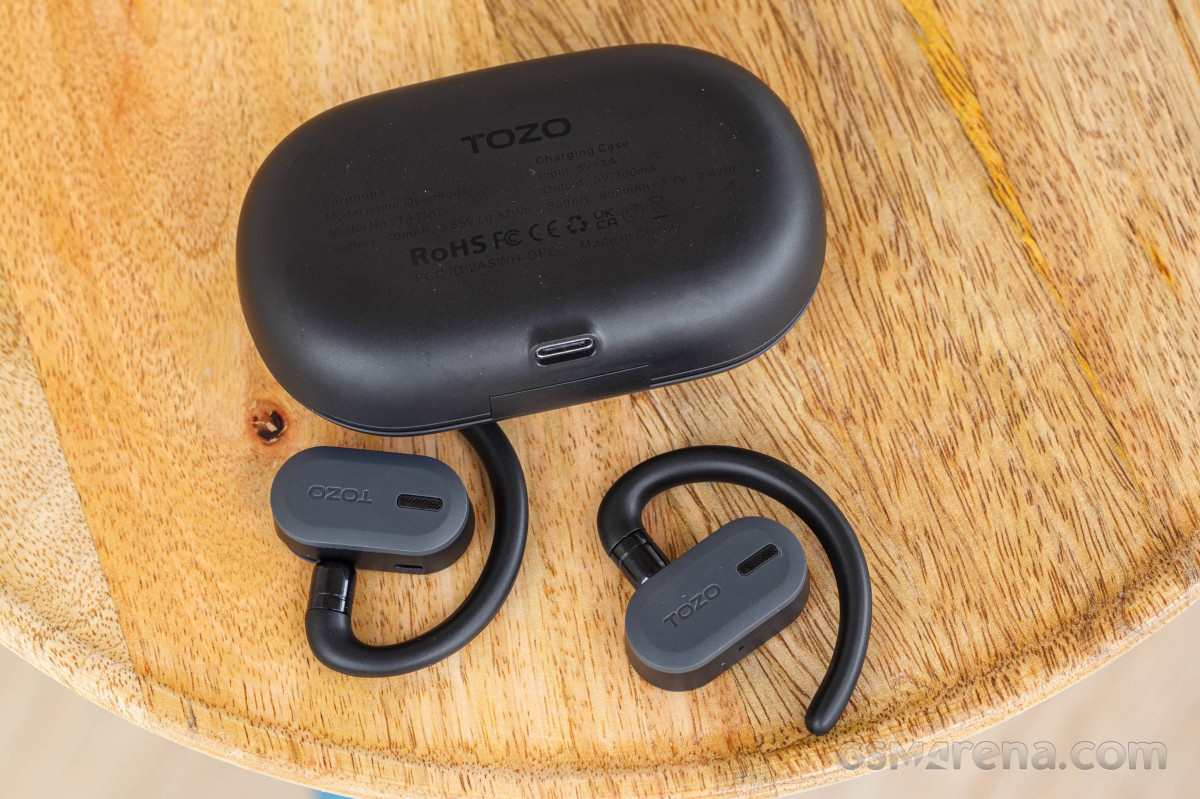 In our testing, we got 11 hours of playback from the buds which is stellar endurance. The case offered 3 complete recharges which renders the combined battery life to 44 hours. That's some of the most impressive battery endurance we've seen from wireless earbuds in our reviews so far. Recharging the case via the USB-C port takes 2 hours.
Verdict
Tozo Open Buds bring a unique open-ear design with swiveling ear hooks that adapt to just about every type of ear shape and size. This key feature makes them easy to recommend as they will fit just about every ear shape out there. We tested the Open Buds while running, working out and for work and they delivered all-day comfort. Some users may feel pressure around their ear tragus region after a few hours. The battery endurance is stellar and you can simply put these in your bag and forget to charge them for a few weeks.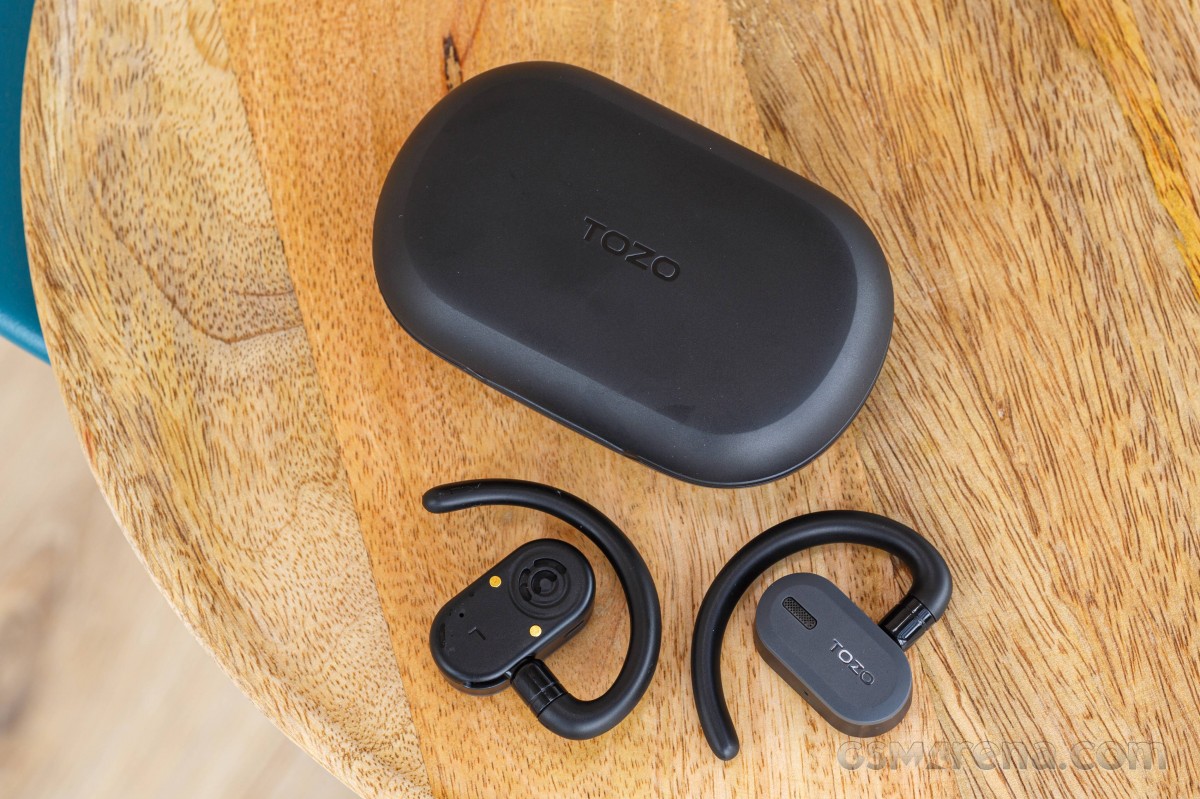 The open-ear design does take some time to get used to and the sound leakage is definitely noticeable. You don't feel as immersed in your music with the Open Buds due to their design, lacking bass and flat highs. At $56 the Open Buds from Tozo offer good value, decent sound output and great battery endurance. If you prioritize secure-fitting earphones for your workouts that don't require frequent charges then Tozo Open Buds are definitely worth a look.
We may get a commission from qualifying sales.