Introduction
While it is always great fun to examine the flagship smartphones and marvel at their tech highlights, the reality is that most people will end up buying a more affordable midrange device. It's the midrangers that move volume in today's market, and things can understandably get very competitive.
That is particularly true in the hotly-contested price range of around €300 to €400 where the Samsung Galaxy A54 and the Xiaomi Poco F5 reside compete with each other. Both are great phones on paper, each with its own respective highlights. Plus, both devices seem to be readily available across most markets worldwide.
And while the A54 is the clear winner in the popularity department, at least according to our specs pages, there is a lot more to this comparison to explore. Do check out how their full spec sheets compare or check our editor's assessment below.
Size comparison
The two phones are roughly similar in size, though the Poco F5 clearly has the size advantage over the Galaxy A54. It is rocking a 6.67-inch 20:9 display, compared to the Galaxy's 6.4-inch, 19.5:9 one. Despite that, the Poco F5 isn't drastically taller than the Galaxy A54, measuring 161.1 mm, compared to 158.2 mm on the Samsung.
The Galaxy A54 is, however, slightly wider and thicker than the Poco F5 – 76.7 mm, compared to 75 mm and 8.2mm thickness, compared to 7.9 mm, respectively. That's besides the fact that both devices are rocking the same size, 5,000 mAh battery packs.
Despite its larger display, the Poco F5 is noticeably lighter than the Galaxy A54. It weighs in at 181 grams, versus 202 grams on the Samsung. Perhaps a substantial chink of the difference stems from the fact that the Galaxy A54 has a Gorilla Glass 5 back, which weighs more than the plastic back panel on the Poco F5.
Speaking of materials and build quality, the Poco F5 also has a Gorilla Glass 5 front glass, and both devices are rocking a plastic middle frame.
However, the Galaxy A54 has that coveted IP67 rating, while the Poco is stuck with a much more basic IP53 rating.
Display comparison
As already mentioned, the two phones have a notable difference in display size. The Galaxy A54 is more compact, with a diagonal of 6.4 inches and a 19.5:9 aspect ratio. All the while, the Poco F5 is rocking a solid 6.67 inches with a 20:9 aspect ratio.
Both displays have a FullHD+ resolution and look very comparable in person in terms of sharpness. Both phones manage to come very close to the 1,000nit mark in our testing in terms of maximum brightness. That makes them equally great even in bright outdoor conditions.
Maximum brightness is crucial for HDR playback; both phones have HDR support on their displays. The Poco F5 does have the Galaxy A54 slightly beat in this category since it supports Dolby Vision on top of the HDR10 and HDR10+ standards that both phones cater to.
Samsung has a solid reputation when it comes to color accuracy and reproduction. The A54 does not disappoint in this department, doing particularly well with the sRGB color space. The Poco F5 isn't far behind in terms of accuracy, and it does have the clear benefit of offering a 12-bit panel compared to Samsung's 8-bit one. This means less color banding in some demanding images.
Both phones support a 120Hz maximum refresh rate and handle automatic refresh rate switching pretty well to balance smoothness and battery endurance.
Battery life
Both the Galaxy A54 and the Poco F5 are equipped with hefty 5,000 mAh battery packs. The pair performed very similarly in our proprietary battery endurance test.
There are marginal differences in how the two faired in our testing. For instance, the Galaxy A54 did ever so slightly better in the Wi-Fi web browsing portion of the test. But honestly, it is not even worth pointing out. For all intents and purposes, the two phones offer identical battery endurance.
Charging speed
While battery endurance might be a wash between the two phones, there is a clear winner when it comes to charging speed. That would be the Xiaomi Poco F5 with its 67W fast charging solution. Meanwhile, the Galaxy A54 is stuck with just 25W of PD+PPS charging.
The difference in charging rate is apparent. Thirty minutes on the charger brings the Samsung up to 56%, while the Poco F5 ends up at 83%.
A full charge takes just over an hour on the A54 and a bit under 50 minutes for the Poco F5.
It is also worth noting that the Poco F5 also comes with the 67W fast charger bundled, while the Galaxy A54 sells without a charger.
Speaker test
Both the Galaxy A54 and Poco F5 have stereo speakers. The Galaxy uses the earpiece as a secondary front-facing channel for a hybrid setup, whereas the Poco has a speaker grill for sound to come out on the top of the phone as well, making for a more balanced sound output.
The Poco F5 also has the Galaxy A54 slightly beat in terms of loudness, managing a VERY GOOD score in our testing compared to Samsung's GOOD one.
There isn't a major difference between the two phones in terms of actual sound quality. Both have little distortion in the highs, lack bass and have generally clean mids and vocals. Perhaps the Xiaomi, once again, has a slight edge.
The Poco F5 has another edge with its 3.5mm audio jack, which is absent from the Galaxy A54.
Performance
Samsung bet on its own in-house Exynos 1380 chipset for the Galaxy A54. It is a 5nm chip with an octa-core CPU configuration consisting of 4×2.4 GHz Cortex-A78 and 4×2.0 GHz Cortex-A55 cores. The GPU is a Mali-G68 MP5.
The Galaxy A54 starts with a 128GB 6GB RAM base configuration. But it can also be purchased with 128GB 8GB RAM, 256GB 6GB RAM and 256GB 8GB RAM.
It is important to note here that the Galaxy A54 comes with expandable storage. There is a hybrid microSD card slot, so you do have to choose between a second nano SIM card and more storage, but at least the option is there, which is more than can be said for the Poco F5.
That's about the only edge the Galaxy A54 has in this department, however, since the Poco F5 is equipped with a noticeably more powerful all-around Snapdragon 7+ Gen 2 chipset. It is a 4nm part with an octa-core CPU config consisting of 1×2.91 GHz Cortex-X2, 3×2.49 GHz Cortex-A710 and 4×1.8 GHz Cortex-A510 cores. The onboard GPU is an Adreno 725.

The Poco F5 might lack expandable storage, but it does come with 256GB of UFS 3.1 even in its base variant, which also has 8GB of RAM. You can get a 12GB plus 256GB model as well for a premium.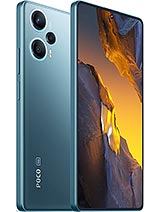 Xiaomi

Poco F5

AnTuTu
931,174
Geekbench 6
1,639 single-core
Geekbench 6
4,348 multi-core
As we already mentioned, the Poco F5 has noticeably more raw power than the Galaxy A54. That includes both CPU and GPU performance. Even so, we wouldn't say the Galaxy A54 is strapped for power. It runs smoothly with no noticeable hiccups.
Camera comparison
The Galaxy A54 and the Poco F5 have pretty comparable camera setups in most respects. The Samsung is rocking a 50MP, f/1.8 1/1.56″, 1.0µm main cam with OIS and PDAF. As for the Poco F5, its main cam is a 64MP, f/1.8 unit with 1/2″ size, 0.7µm pixels and also OIS and PDAF.
Both phones also have a dedicated ultrawide with fixed focus – 12MP on the Samsung and 8MP on the Xiaomi. Both phones also have a dedicated macro cam on the back – 5MP on the Samsung and 2MP on the Xiaomi. As we said, these are quite comparable setups.
The Galaxy A54 does offer a superior 32MP selfie, capable of capturing 4K video, compared to the 16MP, 1080p selfie on the Poco F5. Unfortunately, though, neither selfie cam has autofocus.
Both phones capture great daylight photos with good detail and colors.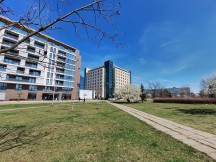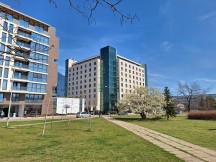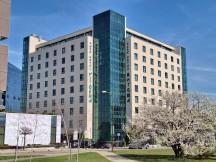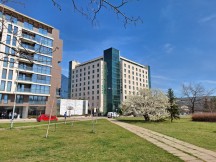 Samsung Galaxy A54: 0.6x • 1x • 2x • 50MP
More samples and a detailed analysis can be found in our Galaxy A54 review.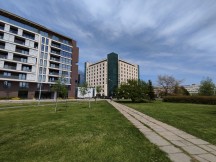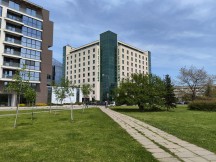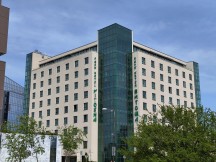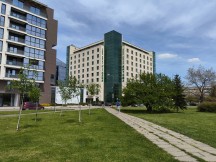 Xiaomi Poco F5: 0.6x • 1x • 2x • 64MP
More samples and a detailed analysis can be found in our Poco F5 review.
Both also offer very competent 2x zoom shots as a crop from the main camera. Daytime video is great coming from both devices as well.
Despite the disparity in selfie resolution, both phones offer competitive selfies too.
Both phones also manage to shine nicely in low-light capture, which is impressive. All in all, neither phone will disappoint in the camera department, as both rock solid camera setups.
Here's a glimpse of how the Galaxy A54's main camera compares in image quality to the Poco F5's in our Image compare tool.
And here's how the Galaxy A54's main camera compares in video quality to the Poco F5's in our Video compare tool.
Verdict
It's hard to crown one of these two phones as being better than the other since they differ notably in their priorities. For instance, Samsung clearly paid a lot more attention to the build quality and ingress protection of the Galaxy A54. That is not to say that the Poco F5 is a flimsy device, far from it. However, if you are a bit more careless towards your phone, you might want the extra peace of mind afforded by Gorilla Glass 5 on both sides of the phone and the IP67 ingress protection offered by the Galaxy.
The Samsung also has that expandable storage going for it and arguably a slightly more polished camera experience. It's definitely a better selfie cam, capable of 4K video capture.
On the other hand, Xiaomi seems to have focused more on delivering better hardware value for money with the Poco F5. While not miles better than the one on the Galaxy, its display offers better colors and Dolby Vision support. And it edges out the Galaxy A54 in performance by a large margin. Plus, while both devices are nearly identical in terms of battery endurance, the extra convenience afforded by the much faster Xiaomi charging is undeniable.
At the end of the day, the decision between these two excellent value midrangers has to be a personal one – depending on your own priorities and even brand preference. We can say with confidence that neither will disappoint, and they are both highly recommended devices.
Get the Samsung Galaxy A54 for:

The Gorilla Glass 5 back and IP67 ingress protection.

The expandable storage via microSD slot.

The 4K video capture on the selfie camera.

The more modern under-display fingerprint reader.

Samsung's long software support and timely updates.